Christine Airey – Paralegal

Portner & Shure
7226 Lee DeForest Drive
Suite 101
Columbia, Maryland 21046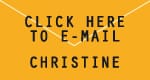 (The use of the Internet or this e-mail for communication with the firm or any individual member of the firm does not establish an attorney-client relationship.)
Christine Airey handles all the large and complex personal injury cases at Portner & Shure. She gained her experience while working at a large firm in Baltimore.
Christine holds an Associate of Applied Sciences degree in Paralegal Studies. With over 11 years of person injury experience, she has helped bring thousands of cases to a favorable resolution. Christine is able to competently handle a large volume of cases, while maintaining an expert level of attention to detail and excellent client relationships.
Christine is one of few paralegals in the Baltimore/metro area who has handled and recovered on behalf of a single client, $1,000,000. This she did along with Mr. Portner in June of 2014. In fact, less than 1 percent of all personal injury paralegals have resolved a million dollar claim. That case was actually recognized nationally and highlighted by the National Trial Lawyers organization in their magazine and website on July 9, 2014. http://www.thenationaltriallawyers.org/2014/07/motorcycle-truck-crash In addition to that claim, in 2012, Christie resolved a $100,000 policy limits claim against GEICO stemming from a Carroll County accident and in 2013, reached a $350,000 settlement against State Farm in a Washington, D.C. car accident, as well as a $90,000 settlement against that same carrier in a Fairfax, Virginia accident case.
Due to her high level of experience, Christine is handling the more complicated claims.
Click below links to see awards Christine assisted the attorney to recover for our clients.
1. Settled: $ 350,000.00
Defendant Failed to Yield Right-Of-Way to Plaintiff traveling Straight on Green Light
2. Settled: $100,000.00
Taneytown Client fractures the cervical spine from the car accident on Route 140 in Carroll County
3. Settled: $ 90,000.00
Defendant Failed to Yield Right-Of-Way to Plaintiff Causing a Serious Auto Accident